Catalyst is CIM's member-only magazine, packed with features that explore new thinking across key fields such as leadership, behavioural economics and sociology. Collating career-enhancing content from a global network of business leaders, Catalyst leads the conversation on the latest topics affecting marketers and businesses alike, making it a truly invaluable learning resource to the modern marketer.
Discover the latest edition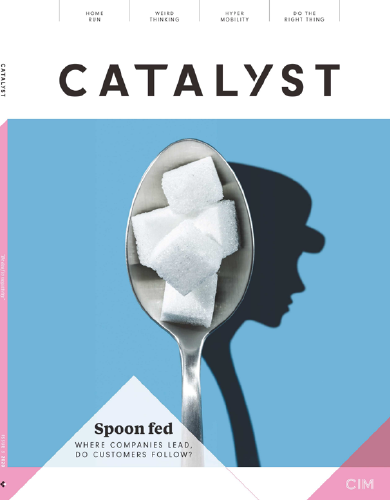 Step out of the comfort zone? As the Covid-19 pandemic impacts every element of the marketing mix, it doesn't feel that we're being asked to step out­side our comfort zones. More like we're being shoved into a new and uncertain reality. It can seem that the role of business is unclear – but, ultimately, it has never more critical.
This edition, CIM members can discover why it is being left to brands to bring about positive consumer behaviour change, and how marketers can pave the road to better choices.
In our profile, find out why Samsung Europe's chief marketing officer, Benjamin Braun, has always dared to be different – and what that really means for the modern marketer.
Don't miss out on the latest marketing insights. Non-members can access a preview of January's Catalyst magazine to get a taste of our exclusive member-only content by clicking below.