Catalyst is CIM's member-only magazine for the strategic marketer, bringing business leaders the latest insight and knowledge from across the profession. Catalyst magazine is packed with features that explore new thinking and deliver insightful content across key fields such as leadership, behavioural economics and sociology.
Collating career-enhancing content from a global network of business leaders, Catalyst leads the conversation on the latest topics affecting marketers and businesses alike, making it a truly invaluable learning resource to the modern marketer.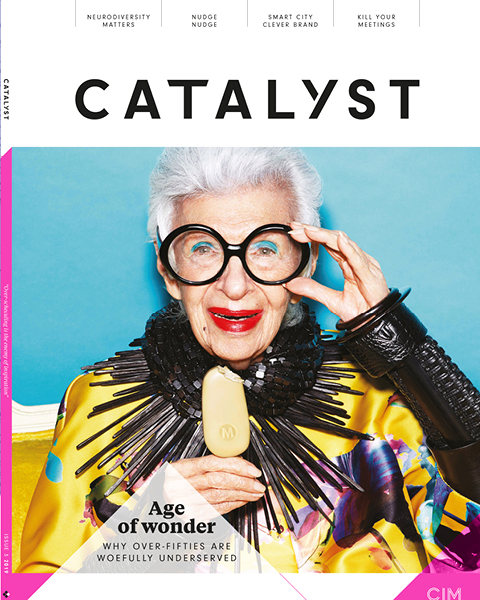 For July's edition of Catalyst, we're thinking out of the box. Once the foundation of traditional marketing is established, how can we push boundaries by thinking around the subject, taking the path less travelled, being a little bit… out of the ordinary? This issue, we look at some of the more interesting approaches in marketing, from actively building neurodiversity into our marketing teams, to pursuing the often-forgotten older demographic.
This quarter, CIM members hear from Twitter's EMEA vice-president Bruce Daisley on the productivity conundrum; managing director of marketing and digital for Direct Line, Mark Evans, on the marketing brain; and NHS Blood and Transplant's head of donation marketing, Andrea Ttofa, on the power of influencing behaviour.
With a wide-reaching global focus, this edition we explore radio's renaissance in India, Singapore's smart city and how noodles became Nigeria's superfood.
We don't want you to miss out on the latest marketing insights. This quarter, we're excited to bring you Catalyst Lite, so you can get a taste of our member-only content before you sign up. To access a selection of articles from the latest edition, click below