Catalyst is CIM's member-only magazine, packed with features that explore new thinking across key fields such as leadership, behavioural economics and sociology. Collating career-enhancing content from a global network of business leaders, Catalyst leads the conversation on the latest topics affecting marketers and businesses alike, making it a truly invaluable learning resource to the modern marketer.
Discover the latest edition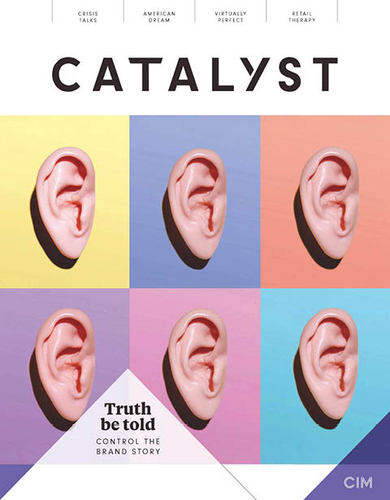 Marketers are storytellers. It is their job to weave a narrative around their product so that consumers understand its relevance and how it fits into their own lives. This issue of Catalyst is bound by the idea of telling stories, but also what that means.
This quarter, CIM members can discover how effective storytelling can help to tackle the spread of misinformation and counter-narratives in our cover story.
In our profile feature, find out what L'Oréal UK's CMO Lex Bradshaw-Zanger has learned from twenty years in industry, and why he believes marketers have entered the age of post-omnichannel.
Don't miss out on the latest marketing insights. Non-members can access a preview of January's Catalyst magazine to get a taste of our exclusive member-only content by clicking below.