Catalyst is CIM's member-only magazine for the strategic marketer, bringing business leaders the latest insight and knowledge from across the profession. Catalyst magazine is packed with features that explore new thinking and deliver insightful content across key fields such as leadership, behavioural economics and sociology.
Collating career-enhancing content from a global network of business leaders, Catalyst leads the conversation on the latest topics affecting marketers and businesses alike, making it a truly invaluable learning resource to the modern marketer.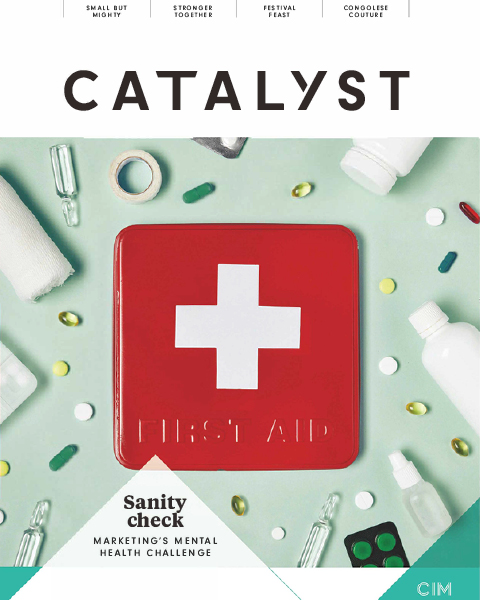 This new year, no learning is too big or too small. From the size of company to the size of the challenge, there is always the chance for something new in marketing. Knowledge is power and it's vital for the health of the organisation. But knowledge is also vital for the health of the marketer.
This quarter, CIM members can gain insights from Procter and Gamble's longstanding vice-president of global communications, Damon Jones, on the value of aligning commercial and ethical; The Cheeky Panda's co-founder, Chris Forbes, on building ambition that is bigger than size; and Leah Shaw Hawkins, Pickering's Gin's head of marketing, on making branded experiences business savvy.
With an extensive global focus, this edition we delve into couture from the Congo, the golden opportunities on China's silver screen and how super signs are supercharging brands in Asia.
Don't miss out on the latest marketing insights to keep your knowledge up to date. This January, you can get a taste of our member-only content before you sign up. To access a selection of articles from the latest magazine, click below.