January 31, 2024
1:00 PM - Marketing Club

Learn how to get your first marketing job by positioning yourself to be attractive to the marketing industry, and by discovering what employers want from graduates now and in the future.
In this interactive 'Boost your employability' session, Clare Kemsley, Managing Director for Marketing at global recruitment firm, Hays, will share:
•
latest marketing job trends
•
a typical job description for a graduate marketing role
•
how you can prepare for a role in the marketing industry
•
what will make you attractive to employers
Plus, Clare will be available to answer your questions through the session, to help you get ahead in your career.
What is the CIM Marketing Club?
The CIM Marketing Club has been specifically created to help university students get the most from their CIM Accredited Degree and prepare them for a career in marketing. In addition to regular newsletters the CIM Marketing Club offers a series of webinars throughout the year covering the latest trends and employability skills required for a successful marketing career.
To register for this webinar please click here or on the image at the top of the page.
If you have any questions regarding the event please use the contact details provided.
BOOK NOW - click the image below to register for the webinar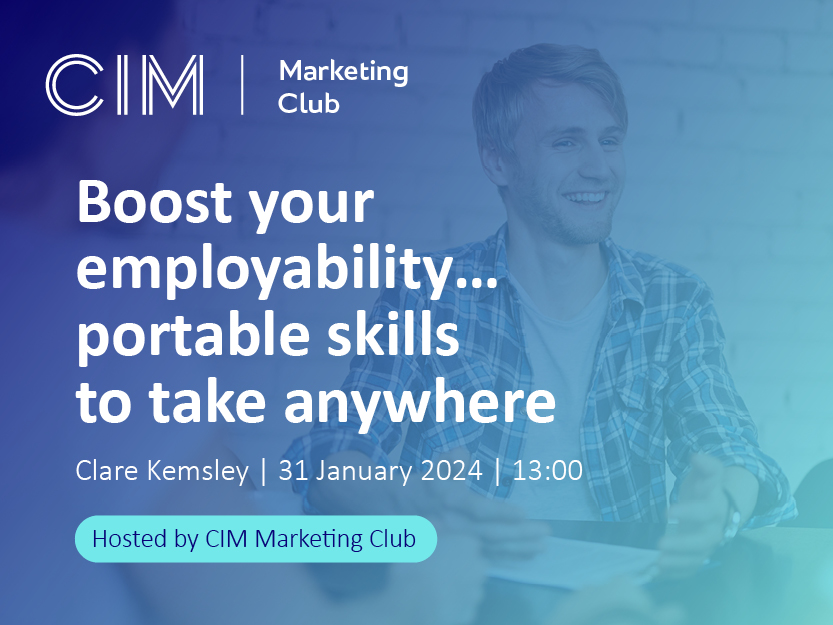 Add to calendar

Sector: Non-specific
Region: Non-Regional
Speakers: Clare Kemsley
This event is free
Tweet