October 20, 2021
1:00 PM - Marketing Club

Speakers:- Pamella Barotti, Head of Customer Advocacy at Microsoft and Clare Kemsley, Managing Director UK&I at Hays Marketing
This webinar is part of our CIM Marketing Club series of events.
A career in marketing can take many forms, each requiring a unique approach and set of skills to be successful. The approach and skills required evolve and shift as the social, political, financial, and technological landscape develops. This constant desire for change – whether by choice or to remain relevant – is exciting and challenging. Whether you are yet to work in marketing or are already working in a marketing role, it is vital to understand what employers expect so you can meet those demands.
Gain the confidence required to land the role you really aspire to do or work for the organisation you admire. Understand the importance of making yourself the best brand you can be. Find out what skills and competencies will boost your employability to help you progress to the next stage in your career, whether that be as a graduate or moving from one job to the next.
The session will feature presentations from Pamella Barotti - Head of Customer Advocacy at Microsoft UK, and Clare Kemsley - Managing Director UK&I at Hays Marketing.
The session will cover:
•
My career in marketing by Pamella Barotti and what it's like to work for Microsoft
•
'How to' guide to get into a marketing career, including attitude and behavioural traits to be successful
•
A snapshot of marketing workforce skills and job function needs
•
The latest Hays report on equality, diversity and inclusion
•
MyCIM, the marketing challenge and professional mentors
Pamela Barotti
Pamela is a strategic global marketing, communications and advocacy lead with 15+ years' experience in technology and financial services. She is a board member of CIM Greater London, and is a guest lecturer at Birkbeck University of London. She has a strong background in developing and implementing successful marketing and communications strategies and multi-channel programs across local and global markets, which increased brand awareness, improved customer and partner experience and supported multimillion-dollar revenue goals.
Pamella has worked for start-ups, medium-sized and global organisations and prestigious brands including Microsoft, Amazon Web Services, Mastercard, Oracle, Shell, and S&P Dow Jones. She has a unique combination of corporate experience across developed and emerging markets, strong academic background, coaching qualifications and passion for empowering people and organisations to grow and thrive.
She designed and launched Learning Development Programs in partnership with CIM and Museum of Brands in London on a pro bono basis, reaching over 2K marketers and brand professionals in the last few years. She has also created and delivered engaging talks and workshops on marketing, innovation and soft skills topics to charities and well-known organisations including Accenture, Hays, Pearson Business School, University of London and The Museum of Brands.
Pamella holds a degree in Marketing and Publicity from Mackenzie University, a well-known university in Brazil, and a postgraduate diploma in Strategic Marketing through CIM. She has also attended professional development courses at Harvard University and University of London.
Clare Kemsley
Clare has over 30 years professional recruitment experience. She works closely with organisations and Hays specialist consultant teams, to support recruitment strategies that effectively deliver great candidates and enhance an organisation.
Clare believes firmly that great behaviour drives the culture of a business and allows the customer experience to be one of the highest qualities. She is a passionate advocate of lifelong learning and thoroughly enjoys sharing marketing knowledge and supporting the career paths of entry level candidates through to senior directors. She stays up to date through regular engagement with leading experts in the marketing profession and Professors of marketing that are researching the future of the profession.
Clare chairs regular roundtable events, delivers presentation at Universities and creates interactive learning sessions for a wide variety of marketing professionals. She also works in partnership with professional bodies such as CIM to deliver research and market insights.
The webinar will start at 1:00pm(BST), finish at 2:00pm(BST) and is inclusive of a live Q&A after the presentations.
To register for this webinar please click here or on the image at the top of the page.
What is the CIM Marketing Club?
The CIM Marketing Club has been created to help university students get the most from their CIM Accredited Degree and prepare them for a career in marketing. To complement students' academic studies, the CIM Marketing Club runs a series of webinars designed to share the latest thinking, trends and techniques in real-world marketing delivered by expert practitioners.
This event has now passed
BOOK NOW - click the image below to register for the webinar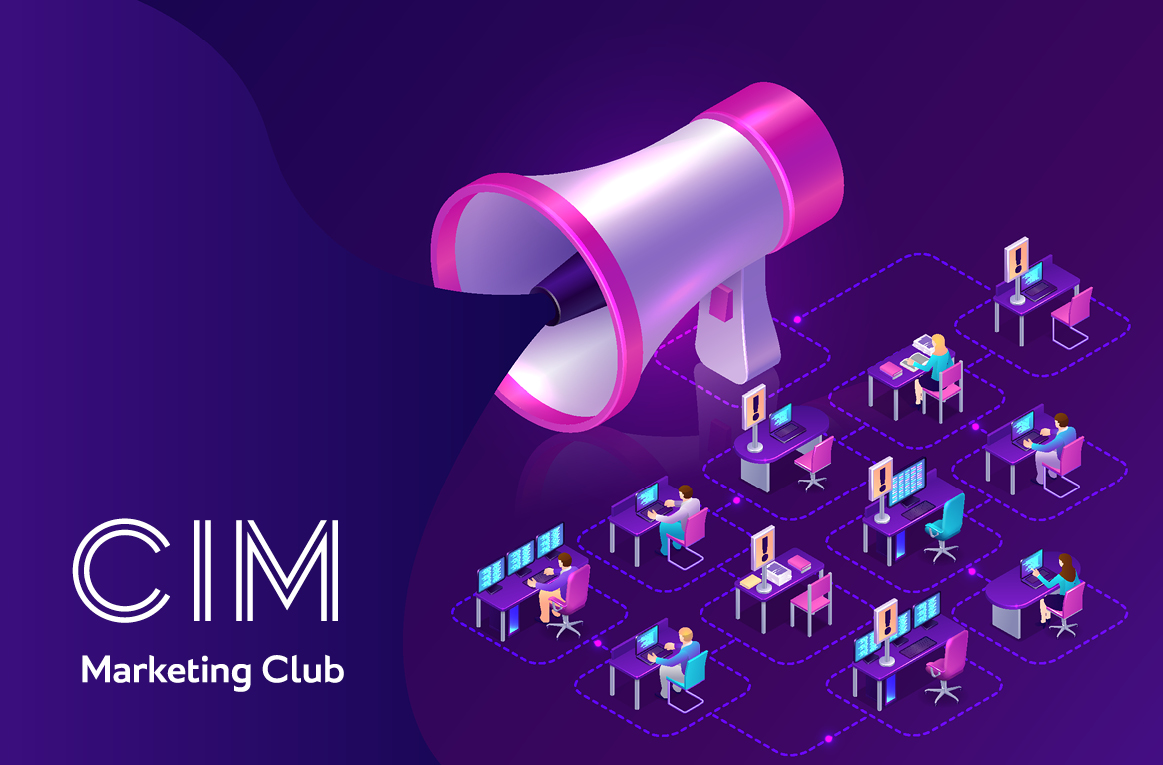 Add to calendar

Sector: Non-specific
Region: Non-Regional
Speakers: Pamella Barotti and Clare Kemsley
This event is free
Tweet